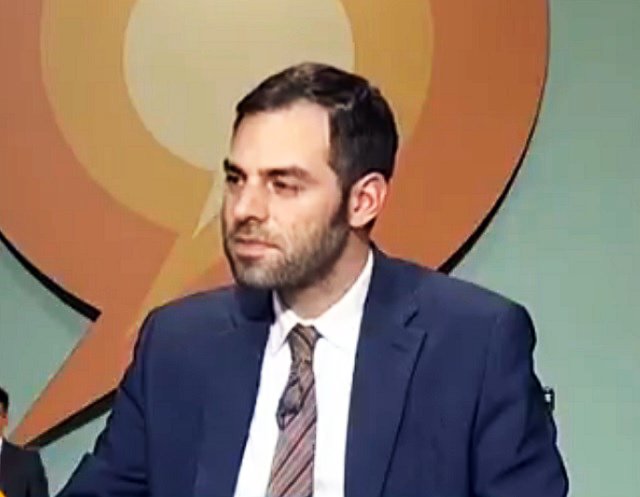 Michael Kugelman says war rhetoric of Indian civil, military leaders increases chances of war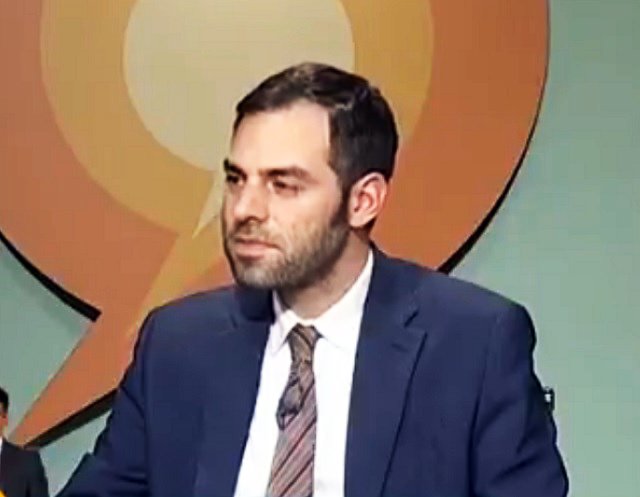 Michael Kugelman says war rhetoric of Indian civil, military leaders increase chances of war. SCREENGRAB
ISLAMABAD:Being labelled as an Indian and Pakistani agent at the same time is one thing. Michael Kugelman, the deputy director Asia Program at Washington-based Wilson Center, is perhaps the only man who is also called an Afghan agent – making him a "triple agent".
"It must mean I am doing something right. That's all I can say. I feel that if I want to be a good analyst I shouldn't hesitate to be critical of the countries I study. I study India, Pakistan and Afghanistan," Kugelman said laughingly while sharing his views on Express News' talk show, The Review, on issues ranging from Pakistan's relationship with the US, China, Afghanistan and India and from Kashmir to domestic politics. Asked if he takes it as a complement, Kugelman quipped: "That's the best way for me to take it; otherwise I will get discouraged".
About an article he wrote in December last year in which he expressed fears that there was a potential of Pakistan-India war in 2020, Kugelman said, "He did not suggest there will be a war but there is a good chance of a war".
Explaining the reason, he said the relationship between Pakistan and India is even worse now than it was when Pulwama and Balakot happened. The repeal of Article 370 is such a game changer for this relationship in so many ways, he said, adding that it ratcheted up tensions in a big way. "Let's say there is another triggering act; whether there is a provocation in Pulwama or something else; it would mean that it would be very hard to deescalate a crisis," he feared.
Saudi Arabia, Pakistan to 'advance Kashmir cause'
Kugelman said the United States and other international players tried to help defuse the crisis last time but it would be a lot harder to do that this time around. "What I also worry about is that 'India could be the provocateur this time around'," he added.
"There has been a lot a rhetoric coming from very senior officials in India that at one point they are going to reclaim POK, as they put it." Kugelman said he has heard this before but the intensity of the rhetoric is a lot more frequent than he is used to.
Last month, new Indian army chief Gen Manoj Mukund Naravane threatened that his force would take control of Azad Kashmir if the Indian government gave such an order. Prime Minister Narendra Modi said earlier this month that India could make Pakistan "bite the dust" in less than 10 days – a claim laughed off by the Pakistani leadership. While their leaders are stepping up their war rhetoric, Indian troops are heating up the de facto border with Pakistan by frequently violating a 2003 truce between the two countries.
Asked if he think India is serious to trigger a war, Kugelman said:  "I can't say for sure but I think given how the Indian government has proceeded and followed up on a lot of threats that it hadn't carried out before; whether you are talking about Article 370 repeal, the new citizenship law or building the Ram Temple; I would not be surprised."
Kugelman's views strengthen Pakistan's warnings that India might stage a false-flag operation to use it as pretext for war with Pakistan. Prime Minister Imran Khan has repeatedly warned the international community that Modi, an RSS ideologue, was a threat to not only regional but global peace.
Pakistan summons Indian diplomat after civilian martyred in LoC firing
Some analysts believe that the Modi-led India would wait until it receives Rafale fighter jets from France and installs the Russian-made S-400 Defence System as, at the moment, its ageing air fleet can't compete with Pakistan's warplanes.
Economy: Biggest thing, biggest failure
On the performance of Imran's government as an outside observer, Kugelman said he would argue that the government really was elected with the mandate to fix the economic problems but the economy by most measures, is still very troubled and there seems to be a view that this government is simply not capable and doesn't have the capability to deal with this worsening economic situation.
"The economy was the biggest thing and that's where the biggest failure to this point has happened," he said. He was of the view that Premier Imran has handled himself very well during the Pulwama-Balakot crisis. The international community gave him a lot of credit for being a conciliator and coming across as more reasonable than India and the Modi government. "That's good but the economy is the most important thing and that is where I think there has been least enough progress in this government," he said.
US-Pakistan relationship
Asked about the Pakistan-US relations, especially in line with US President Donald Trump's recent meeting with Prime Minister Imran at the World Economic Forum and the message that emerged from it that the two countries are very close to each other, Kugelman said the relationship is in a good position right now but to say that it has never been better is incorrect.
"Trump said that it never been better; that's not true," he said, adding that the relationship has been a lot better in the past. "Security assistance that the US suspended is still suspended but what he meant was that the relationship has improved so much over the last year or so because of Pakistan's help to kick-start a peace process in Afghanistan." Because of Pakistan's cooperation, he said, the relationship is a lot better than it was when President Trump took office.
When quizzed what would happen to the Pak-US relationship once the objective is achieved in Afghanistan, Kugelman said: "This is a big question. Traditionally, the US looks at its relationship with Pakistan through the lens of Afghanistan, so, once the US troops leave Afghanistan and the US footprint is not there, it raises the question that the US would feel that Pakistan is no longer relevant for US interests".
"I think the question is whether US policymakers at that point continue to see Pakistan as an important strategic player for reasons having nothing to do with Afghanistan," he added.